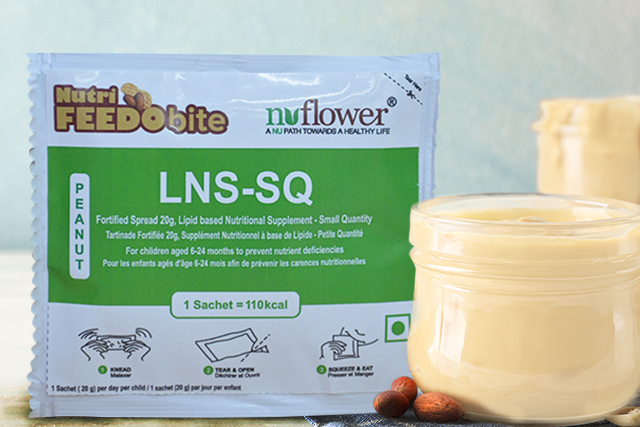 NutriFEEDO Bite is a lipid-based nutrient supplement prepared, to cater to the needs of children with nutrient deficiencies in their everyday consumption, from the age group of 6 to 24 months. NutriFEEDO Bite adheres to product and nutritional standards outlined by the WFP, WHO, UNICEF and MSF.
Deficiency of a nutrient in one's body could lead to severe and chronic ailments, such as skin disorder, stunted growth of bones and dementia etc. NutriFEEDO Bite is composed of specialised nutrients to resist the chance of a child falling prey to the further condition of malnutrition.
NutriFEEDO Twig  is a lipid-based nutrient (supplement/intensive peanut paste) in medium quantity to prevent malnutrition among children within the age bracket of 6 months and older. The manufacturing composition is kept highly rich with nutrients similar to that of RUTF/RUSF such as peanuts, milk powder, minerals and vitamins with other specialised ingredients, essential to fulfilling the gaps in the nutrition of one's consumption on a day to day basis.
Nutrient deficiency at an early age could lead to ailments such stunted physical and mental growth, which at a later stage could become irreplaceable.